Cubing competition allows students to test skills
Cubing Club held its first competition, allowing students to experience a competitive atmosphere and to test their cubing skills against others. 
During the competition, held on Nov. 8 after school, participants attempted to solve a mixed-up Rubik's Cube in the shortest amount of time. For a typical competition, each contestant has fifteen seconds to inspect the cube before they must start solving the cube, according to World Cube Association.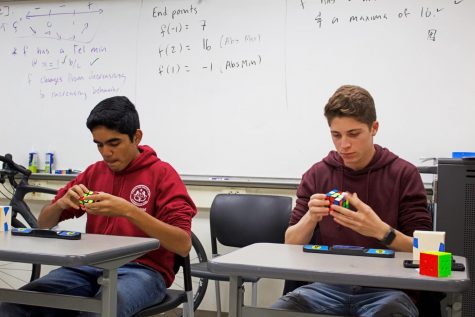 The event was open to anyone who wished to participate. The students who attended had cubing experience ranging from less than a year to over five years, co-president of cubing club junior Calix Tang said. 
Tang said the event was held so students could experience a simulation of a real cubing competition, with factors such as time and pressure present.
The club attempted to mirror the conditions of a professional tournament by covering cubes in boxes so the competitors would not see the cube before the start of the stopwatch, and by using cubing-specific timers.
"Since this is my first competition-style timed cubing," junior Samrudh Shenoy said, "it changed my perception, showed me how competitive it is out there … [and] showed me all the standards they uphold in cubing competitions." 
The competition was structured in rounds, with different sized Rubik's Cubes for each round. Cubes ranged from 2×2 to 3×3 and tested competitors' abilities to utilize the many algorithms required to quickly solve a cube.  
"When competitors go up," Tang said, "they get five solves [and] are ranked by [the] average … of the middle three times." 
Sophomore Nathan Chang emerged victorious after the final round. As a prize for winning, Chang, who has been a cuber for five years, received an Amazon gift card. 
Throughout the event, the club officers acted as judges, timekeepers, scorekeepers and cube scramblers and served as moral support for some of the more uncertain competitors. 
"I felt really nervous the first time," Chang said, "but thanks to the comforting judges, [I felt] better. [My judge] told me to breathe … so I took a deep breath … I believed in myself and I got good solves." 
Overall, the event was a success, Tang said, and cubing club hopes to hold similar competitions in the future, as well as increase attendance at the events. 
"I'm not much of an experienced cuber," Shenoy said, "but I liked [the competition] because it was my first opportunity to really be in a competitive cubing environment and have the cube scrambled by a separate person, have my own timer, a cover for the cube [and] all the competition standard techniques."