Multicultural night showcases campus diversity
Multicultural night showcases the diversity and cultures of students and staff through performances, cultural food and a fashion show. This year, the event was held in the cafeteria on Friday, Feb. 7 from 6 to 8 p.m. Attendees were charged an entrance fee of $3 with ASB and $5 without.
"[It's] a great place to showcase the diversity here at Homestead, as well as the effort that the students put into showcasing their own cultures, [and] really making sure that they are visible and seen for who they are," junior Lotus Taylor said. "Being a part of [Black Student Union], I'm able to get in touch with my black side. I am half Indian, half black. My dad is black, but he doesn't live with us. I don't really see my family on his side as much, so I'm not as exposed to that culture, but being able to be in a group of people who are similar to [you] is honestly very comforting."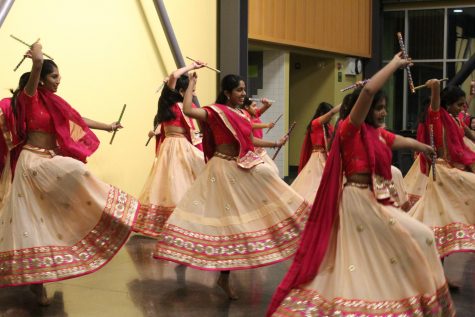 Junior Rachel Xalxo said she loved the performances, but was unable to view them clearly from where she was standing.
"When it came to the performances, I thought [they] were really nice, but I couldn't see them from a specific place," she said. "It would have been better to have held it in the large gym."
French teacher Muriel Von Stein said multicultural night is a tradition that began almost 13 years ago.
Von Stein said a former president of the French National Honor Society wanted to create an event that would bring students together, and eventually collaborated with other cultural clubs to create Multicultural Night.
"The first time [we hosted Multicultural Night], there was, really, no structure, and it is hard to start something, so we had everything organized and we tried to sell tickets in the quad," von Stein said. "We might have sold two tickets … and we almost cancelled everything."
However, they did not cancel the event but instead held the first Multicultural Night on campus. Von Stein said attendance has increased annually.
"I hope that it continues to grow and that more and more people come," Von Stein said. "Everyone is open to the other clubs, cultures, ideas and traditions. It showcases curiosity, tolerance, cultural diversity and all the qualities that I think are important in life, in the world."