Wins, losses aside, girls soccer focuses on sisterhood, community
At the beginning of every single halftime during a soccer game, junior Jackie Khuong — who plays defense — and junior Abby O'Neill — who plays center mid, perform a handshake. If they don't do the handshake or they mess it up, it spells bad luck for the game, O'Neill said.  
The team also does group yoga and mental visualization to prepare for a game, Khuong said.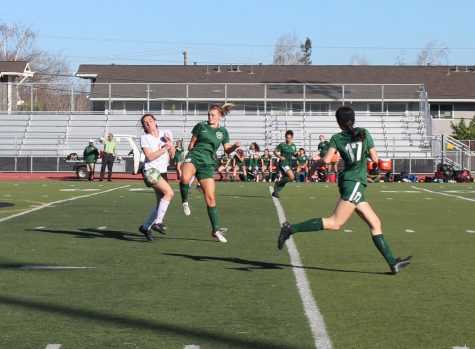 Players have different pre-game rituals. For instance, junior Jocelyn Pytel, who plays center back, eats a bowl of pasta right before a game.
Overall, the season went smoothly, Pytel said. There were both accomplishments as well as defeats. 
"We tied Mountain View, a really good team, which we've never done before in the history of [the team] in the last five years," O'Neill said.
The girls varsity team also rallied back to win against Santa Clara, where they had a good comeback, Khuong said.
But, there have also been some losses.
"We have had a couple of rough games, especially against Los Gatos," Pytel said. "But, in the beginning of the season, we came out really strong, which is good, especially because it was [with] a new team."
Khuong, O'Neill and Pytel have all been playing soccer for twelve years. For O'Neill and Pytel, their interest in soccer originated from their family members, who encouraged them to play, as well. However, that isn't the case for Khuong.
"None of my parents played soccer but soccer was better than swimming," Khuong said.
What Khuong likes about the soccer team is how the girls on the team interact with one another, she said.
"I really like the atmosphere. Everyone's really positive. It's a team sport instead of competing with your peers," Khuong said.
Even their coach makes being on the soccer team enjoyable, Pytel said.
"[With our coach], John, there's no way … [soccer] [isn't] fun. He listens to all the players and what they want," Pytel said.
All in all, joining the girls soccer team allows you to become a part of a community, Pytel said.
"The girls are really nice. There's more to it than just the soccer aspect. It's a lot of sisterhood," Pytel said.