Seniors say farewell to high school basketball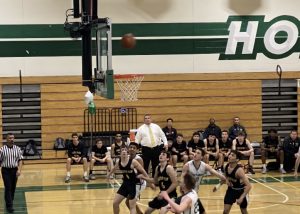 For the senior varsity basketball players, Feb. 12 marked the last high school game they will ever play. 
Senior night is a time where players and their families come together to celebrate their time on the team. 
"We built a family with our team, and even though our basketball careers are over, we're always going to be there for each other," senior David Aronson said.
In many sports, good sportsmanship and the ambition to win is evident. Many players on the basketball team have a strong relationship with their team members and even consider them to be part of one large extended family, Aronson said. 
"I met most of my best friends through basketball," senior Krish Patel said. "It's a very enjoyable experience, because it's one of the only team sports [that is] pretty accessible."
For many senior basketball players, the last game that they will play is an exciting, but nerve-racking game. The pressure to win is always something to worry about, Patel said. 
With the time spent playing basketball, the unions and friendships that come from it are clear, Aronson said.
"You see each other so often, every day after school, [that] it builds good camaraderie," Aronson said. "Basketball is just one part of [our lives] but we'll be together for the rest of our lives."
When it came time for the last game for the boys varsity basketball team, the event was treated like any other: the boys were focused on winning.
However, the emotions that came following the game flooded quickly, knowing that game would be the last for many seniors, Patel said. 
"It's one of those things where no matter how much you try and anticipate, it sneaks up on you," Patel said "It's pretty bittersweet [because] everyone's going to be moving on to new things, [and] these past four years and these experiences [are] coming to an end."