The new war: equality for all
Students, clubs advocate for social change
To protest the killing of George Floyd, HHS students, including rising junior Indhu Chandra, attended a gathering in Los Altos on June 5.
"I think it's good that people are making this [movement for racial equality] important now," Chandra said in a Zoom interview. "This has been going on for a long time and [the attention to the movement] is long overdue." 
Chandra said the protest was organized effectively, and everyone who attended was truly passionate about seeking justice for racial inequality in the U.S.
"I was really surprised at how many people were [protesting]," Chandra said. "There were a lot of kids, which I was really happy about because it's our future. I'm glad our [generation] thinks that [racial equality] is something that should happen."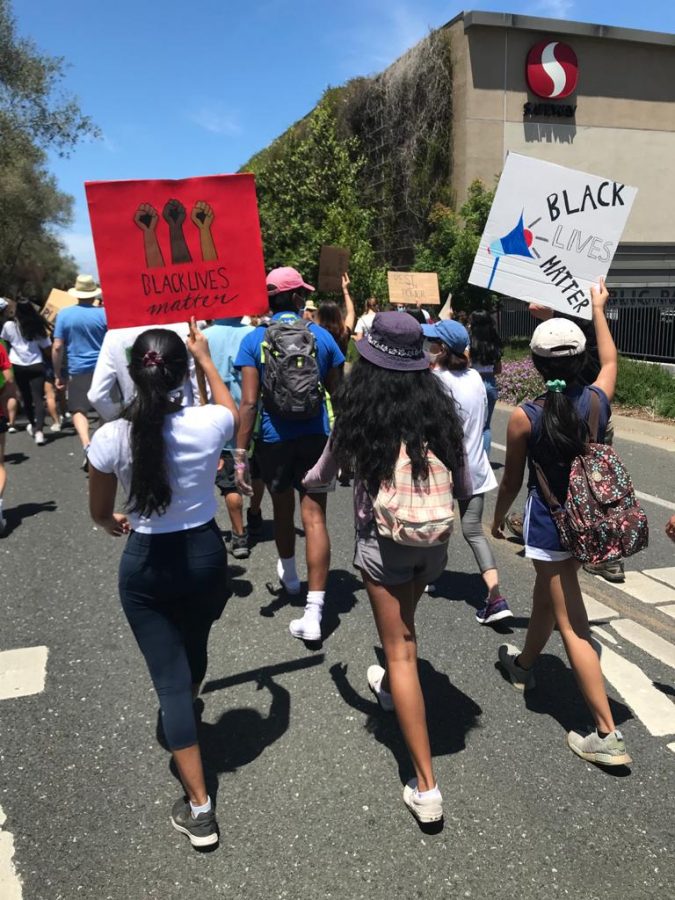 At HHS, many ethnic clubs like the Latinx Student Union and Black Student Union work to promote inclusivity of students of all races, Lotus Taylor, who is a rising senior and president of the BSU, said in a Zoom interview.
"We [as a club] want to create a space for these types of conversations [and] a way for students of all colors to come and be allies to their Black peers, as well as find out ways to better educate themselves," Taylor said. 
Despite its name, the BSU is open to all.
"We don't want to be an intimidating club," Taylor said. "[The club is] not just for Black students; it's for everybody. We need everybody in order to make a change." 
Racial inequality is not by any means a new issue, Taylor said. The #BlackLivesMatter movement was founded in 2013 after the acquittal of Trayvon Martin's killer, according to the Black Lives Matter website. The hashtag recently gained attention worldwide after the killing of a Black man in Minnesota, George Floyd. He died after a police officer knelt on his neck for at least 8 minutes and fifteen seconds, according to the New York Times. 
"For the Black Lives Matter movement to become a major thing again now, I was like, okay, where were y'all when all these other [people were killed]?" Taylor said. "Because it's not like George Floyd was the first one to die. There have been many many deaths before him." 
According to the New York Times, on May 28, over eight million tweets were tagged with #BlackLivesMatter.
"I feel like this [recent attention to the Black Lives Matter movement] is a trend on Instagram," Chandra said. "It might go away soon but I feel like people should keep trying to fight for it, sign [petitions], go to protests, donate as much money as you can; just do whatever you can do. Every little thing helps." 
Through all the violence and adversity, LSU advisor Adrianne Navarro said in an email she believes the Black Lives Matter movement is the starting point for the reformation of law enforcement.
"Racism and human mistreatment with abuse of authority has led to brutal treatment, racial profiling, separation of families [and] to living under inhuman condition," Navarro said. "This has to stop. We are equal. We are all the same. We are all humans."