Varsity boys basketball ends season with CCS qualification
Players agree that improvements can be made for following seasons
Varsity boys basketball ended their regular season with a record of 14-10, allowing them to qualify for CCS. 
Although the basketball team experienced great success, players agree there is room for improvement. Opinions about how well the basketball season went differed greatly. Head varsity coach Matt Wright said the team did better than expected this year. 
"We lost four starters last year, so a lot of people didn't see [the team] finishing in the top half of the De Anza League," Wright said. "Finishing in the top three was a huge accomplishment for us."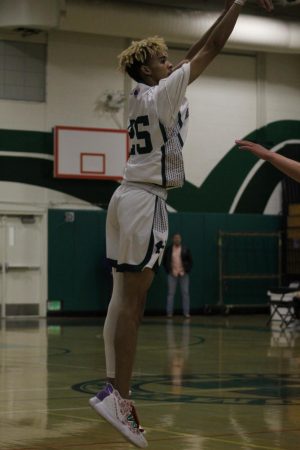 Wright said he credits the team's success as a combined effort, mentioning senior Alex Harris as "big-time scorer" for the team throughout season. He also lauded sophomores and juniors who moved up to varsity this year and expressed gratitude to those who stepped in when needed. 
One instance of this was when, at the varsity game against Mountain View High School on Feb. 12, center and junior Kai Levinson had a great game, Wright said. Another example of roleplayers stepping up is when sophomore Brian Sathy replaced the team's point guard, senior Amit Dunevich, when he fractured his elbow. 
However, Harris said, the team recognized that although they did well record-wise, they could have done much better as a team and as individuals. 
"I'd say we underperformed," Harris said. "We definitely could've played a lot better." 
Junior Daniel Brathwaite said the team had higher hopes for the season, but got better with time. He said he would like to continue the improving trend to win CCS. 
Both Harris and Brathwaite said they plan to continue their basketball journeys after this year. Harris said he has committed to George Fox University, a Division III school, and his goal is to later transfer to a Division I school to continue playing basketball. 
Meanwhile, Brathwaite will continue playing for HHS. His goal, he said, is to win the league championship and CCS, as well.