Social media censorship is legally correct, ethically questionable
In the age of digital media, information is spread to millions of people in seconds, and the control social media companies have on information is immense. These private companies are allowed to deny service to users — and although this is ethically wrong, it is fair in the eyes of the law. 
Terms of service must be agreed to any time a user downloads an app. Twitter's terms of service state that it reserves the right to remove or refuse content and terminate any user. Many other social media platforms including Facebook, Instagram, Snapchat and Reddit also have similar terms of service, stating they reserve the right to remove content, restrict access or disable accounts if the content shared breaks their terms of service.
The right of social media platforms to terminate or suspend accounts if the user breaches their terms of service is legally acceptable, but it calls into question the greater issue of ethics.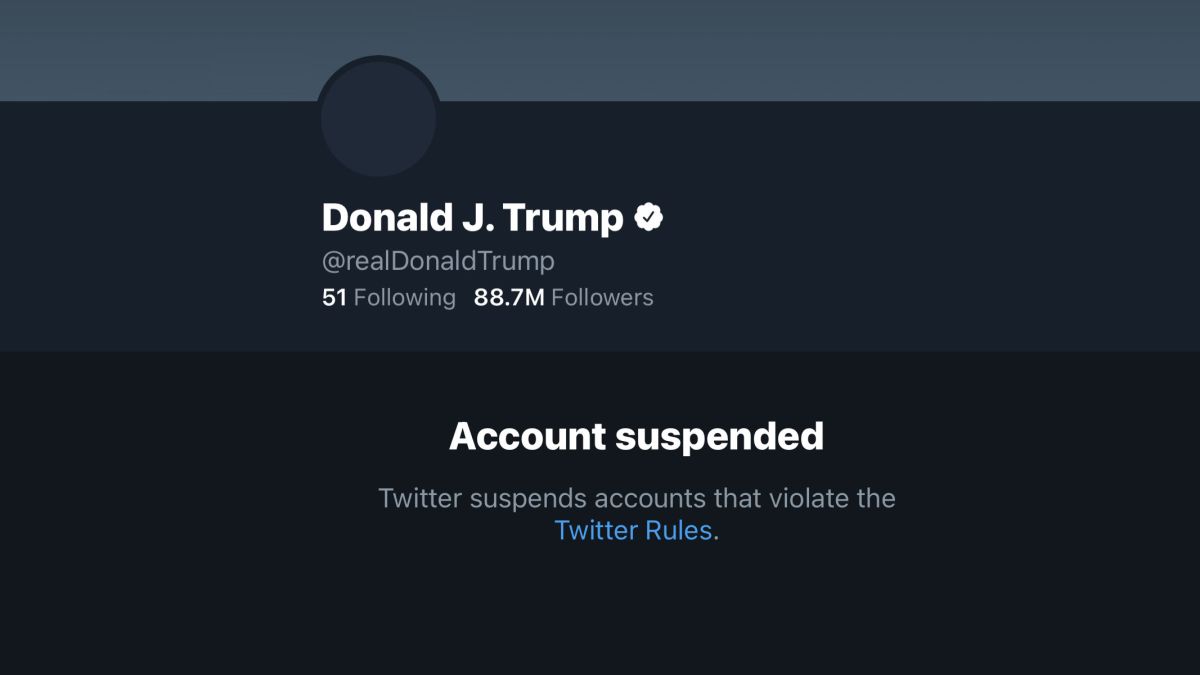 Twitter released a statement announcing the suspension of former President Donald Trump's Twitter account on Jan. 8, attributing its decision to his glorification of violence during the U.S. Capitol breach. Twitter cites Trump's tweet that said, "The 75,000,000 great American Patriots who voted for me, AMERICA FIRST, and MAKE AMERICA GREAT AGAIN, will have a GIANT VOICE long into the future. They will not be disrespected or treated unfairly in any way, shape or form!!!" Other social media platforms such as Facebook, YouTube and Instagram soon followed, suspending his account. 
Although Trump is by all means a controversial and extremist figure who has offended many through his social media posts, his suspension on Twitter is questionable. Trump's previous tweets had been very unpopular with many Americans, who believed his account suspension was justified. However, the idea that private companies can prohibit anyone from spreading information and silence their voices, regardless of who they are, is alarming. Twitter and other social media platforms have become a main source of communication, which is why it is so unsettling that companies can delete any account that breaks their terms of service. Additionally, they have the power to decide and determine what breaks the terms of service. In this case, Twitter served as the judge, jury and executioner when deciding how Trump's tweets broke its glorification of violence policies. Despite the ethics brought into question, Twitter is justified in deleting Trump's account, because of his statements that seemingly encouraged the capital riots and endangered the lives of many congress people.
Similar to Trump, actress Rose McGowan's Twitter account was suspended for 12 hours in 2017, after she broke Twitter's terms of service by exposing a private phone number in a tweet. The disabling of her account occurred while McGowan had been actively speaking out against Harvey Weinstein during his sexual misconduct case. The fact that Twitter banned McGowan's account, even while other public figures go on Twitter rants (for example, Kanye West during his run for president), is ridiculous. 
However, Twitter was completely in its right to do this, as sharing a private number is listed as something not acceptable in its terms of service. Yet, the power that social media companies hold to filter information on social media is disturbing. According to Statista there was an estimate of over 3.78 billion  people who use social media in 2021. Social media companies can prevent information coming from any user and can prohibit information being shared to other users. Since users agree to various terms of service when they download an app, the right of companies to deny service by banning or suspending accounts is nothing outrageous. Beyond the legal aspect is the concept of blocking political figures, or other social media accounts, from publicizing statements or information. Whether it is a controversial political figure, an activist or just a random user going on a rampage, media platforms permanently suspending accounts is ethically wrong. Fast communication is extremely important in a world that moves so quickly, and private companies robbing that ability is not acceptable. Nonetheless, there are no legal issues with social media platforms doing this to accounts that break their terms of service. However, the prevention of information and communication brought into question by doing this is ethically wrong. All in all, when facing the issue of account suspension on social media, it is important to remember that social media platforms are justified in disabling accounts, and that any disagreement against this is based on personal beliefs.