Crossing into the real world
Red Cross club aims to connect national issues to the local community
Some clubs focus on creating change around and within the HHS community. Others try to address issues on a national or international scale. The Red Cross club does both. Whether it is creating cards for COVID-19 patients or hosting fundraisers in support of Ukraine, Red Cross is committed to creating change wherever it can.  
 The club has hosted several guest speaker talks from UC Riverside Healthy Hearts, an organization that promotes cardiovascular health, as well as representatives from the global or national Red Cross organization. Because of their work in the community, the club was awarded a Certificate of Appreciation from the city of Cupertino in May of 2022, club president, junior Aditi Jayanth said.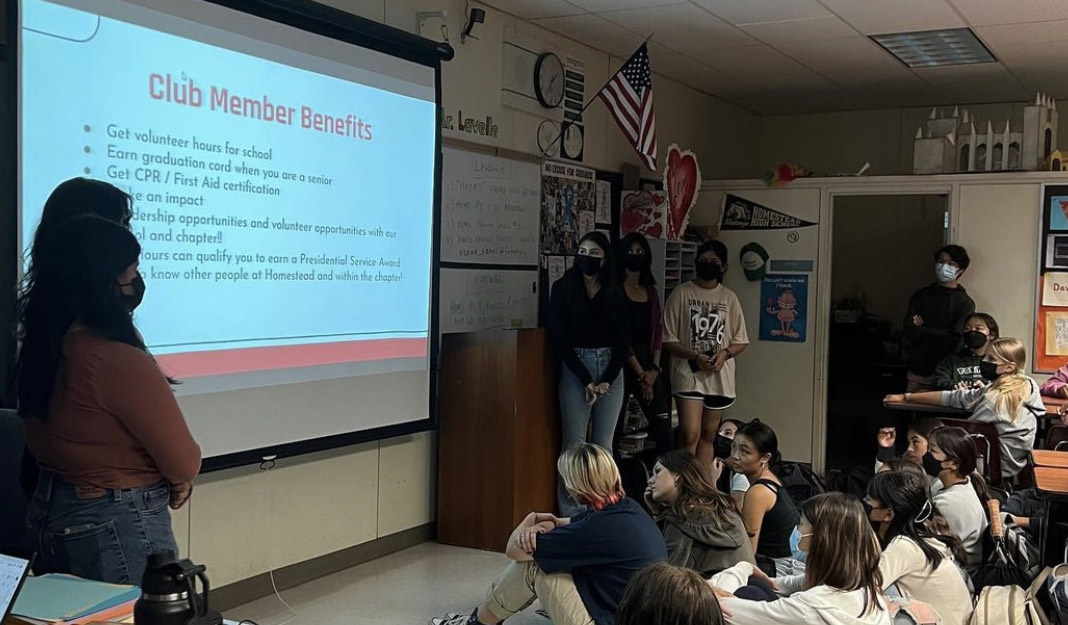 Jayanth said the club strives to not only educate students about how the Red Cross is involved around the world, but also encourage advocacy during times of crisis. Over the past couple years, the club has organized numerous events and activities, including cardmaking for veterans, demonstrating CPR virtually and serving food at homeless shelters, Jayanth said. 
Sophomore Ingrid Gresham, a new member of the club, said she wanted to join because it seemed like an opportunity to connect with others.
"I'm looking forward to the club socials and doing volunteer work," Gresham said. "The club seems to be really tight-knit and helpful for the community."
Similar to Gresham, senior Shubanshi Sharma, who has been a member since her freshman year, said she initially became involved with the club to earn volunteer hours and as an extension of her interests in medicine.
"I was passionate about medicine and diseases, and I wanted to be able to help those who are suffering and people in need," Sharma said.
However, since joining in her freshman year, the club has become so much more than an extracurricular, Sharma said. Aside from the volunteering component, Sharma said the most valuable aspect are the bonds that form as a result of club-wide events, the most notable being a cardmaking activity where members made cards for elderly COVID-19 patients.
"We were put into groups to make a group card, and it was a memorable day because I got to reach out to people from different schools," Sharma said. "Overall, it was a really fun experience."
Through volunteering and engaging in the community, Jayanth said she hopes members of the club  are ultimately able to understand how much of a difference one person can make.
"Over 90% of the International Red Cross is composed of volunteers," Jayanth said.  "I want to spread the message to high schoolers that they too can be a hero by creating some small change within their community."