Exploring modern approaches to learning
HHS community reflects on increased use of technology
The sound of students typing away on their laptops. The low hum of the air conditioning in the background as students work diligently on their online assignments. These sounds drift throughout classrooms on campus, marking the start of a new school year.
After a year of distance learning, many HHS teachers continued to rely heavily on technology and shifted to a more virtual curriculum, senior Mikaela Kwan said. Although Kwan said she understands how the increased technology usage might present a challenge for some students, she believes the change has brought a variety of benefits. 
"There has been a lot more technology in class recently but I like that aspect of school," Kwan said. "I know that [working virtually] doesn't work for some people. For me, it's a lot more convenient to type notes, and I tend to catch more of what the teacher is saying." 
This year, departments will be encouraged to continue teaching their technology-based curriculums and incorporating technology in classes, principal Greg Giglio said.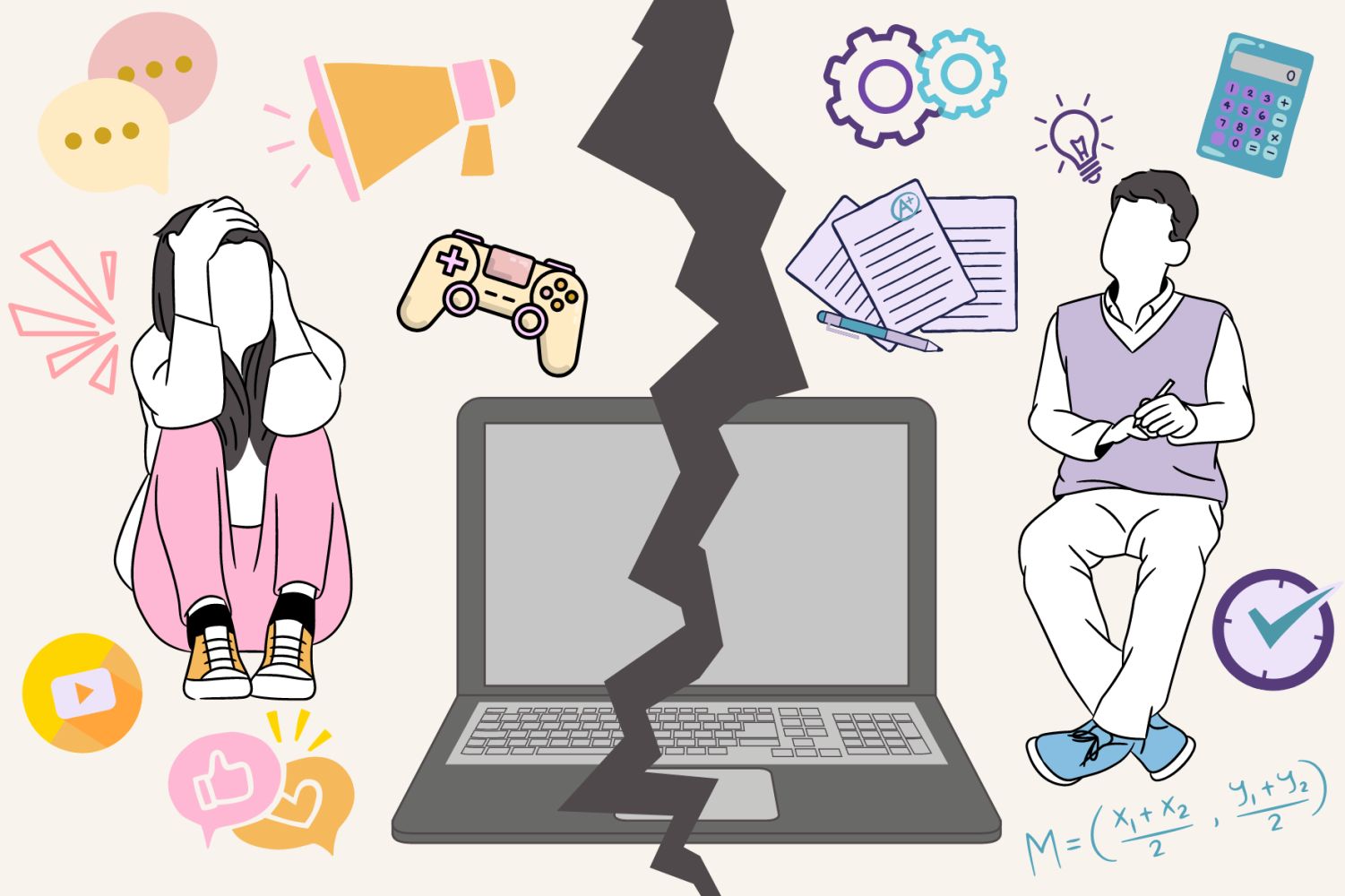 Additionally, Chromebooks are available to all students who are in need of one, Giglio said. This ensures that all students are able to participate fully in class and equips them with the necessary resources.
"If students can't provide their own computer, they can get a loaner from the school," Giglio said. "So the expectation is that every student on campus has access to at least a Chromebook."
However, this increasing dependence on technology also poses various challenges to students.
HHS Networks Specialist Andy Nguyen said the location of a student on campus heavily impacts their wi-fi access, which can lead to inefficiency and internet connectivity issues. 
"There are more dead spots on campus without wifi coverage now," Nguyen said. "This is because of the construction and because the network 'fuhsd' exclusively uses a band that does not go through obstacles, as well."
Wi-fi unreliability has the potential to cause internet outages, which can interrupt students' classes and hinder productivity, Kwan said.
Additionally, while technology can be issued to students, it may always be functional, Kwan said. 
"If you need a computer, you can definitely get one," Kwan said. "The real question is, 'is it an effective computer that will let you smoothly get your work done?' Most of the time, the Chromebooks don't connect to the internet and they're really clunky and hard to use." 
Those lacking internet access at home face a dilemma when adapting to a more technologically dependent curriculum, but HHS is aiming to combat this issue by offering families affordable resources. 
"We also partner with, talk to and promote some of the cable companies and data companies who have really good packages and are pretty inexpensive," Giglio said. "We definitely try to get that information out to our families."
The district also loans out hotspots to students who require internet access at home, a solution that can be costly to provide, but is necessary to ensure all can access their schoolwork, superintendent Graham Clark said. 
Ultimately, adapting to the use of technology in schools and facing the challenges that come with it teaches students advantageous skills they can apply to other aspects of their lives, Giglio said. Overcoming obstacles students face as a result of technology in school, such as avoiding distractions on computers, builds their resilience, Giglio said.
"I don't know if we'll ever eliminate the distractions," Giglio said. "We have to learn how to train ourselves and how to navigate some of those pitfalls."