'One Acts' moved online
Actors disappointed after preparation for an in-person play
The drama department has been preparing a collection of student-written plays called 'One Acts' since December of 2021, initially thinking it would be performed in the auditorium. However, due to the rise in COVID-19 cases,  drama director Leslie Lloyd decided to make the production virtual, freshman and lead actor Jackson Reavis said. 
"I'm really impressed with drama," Reavis said. "A lot of people put a lot of work into 'One Acts' in general and because it was online, they had to work harder, and they did amazing. I am really excited to see the video." 
Sophomore Londyn Smith, an actress in 'One Acts,' described this production to be a compilation of five mini-shows between 10-25 minutes each. Smith said they felt disheartened when they found out the show was being moved online.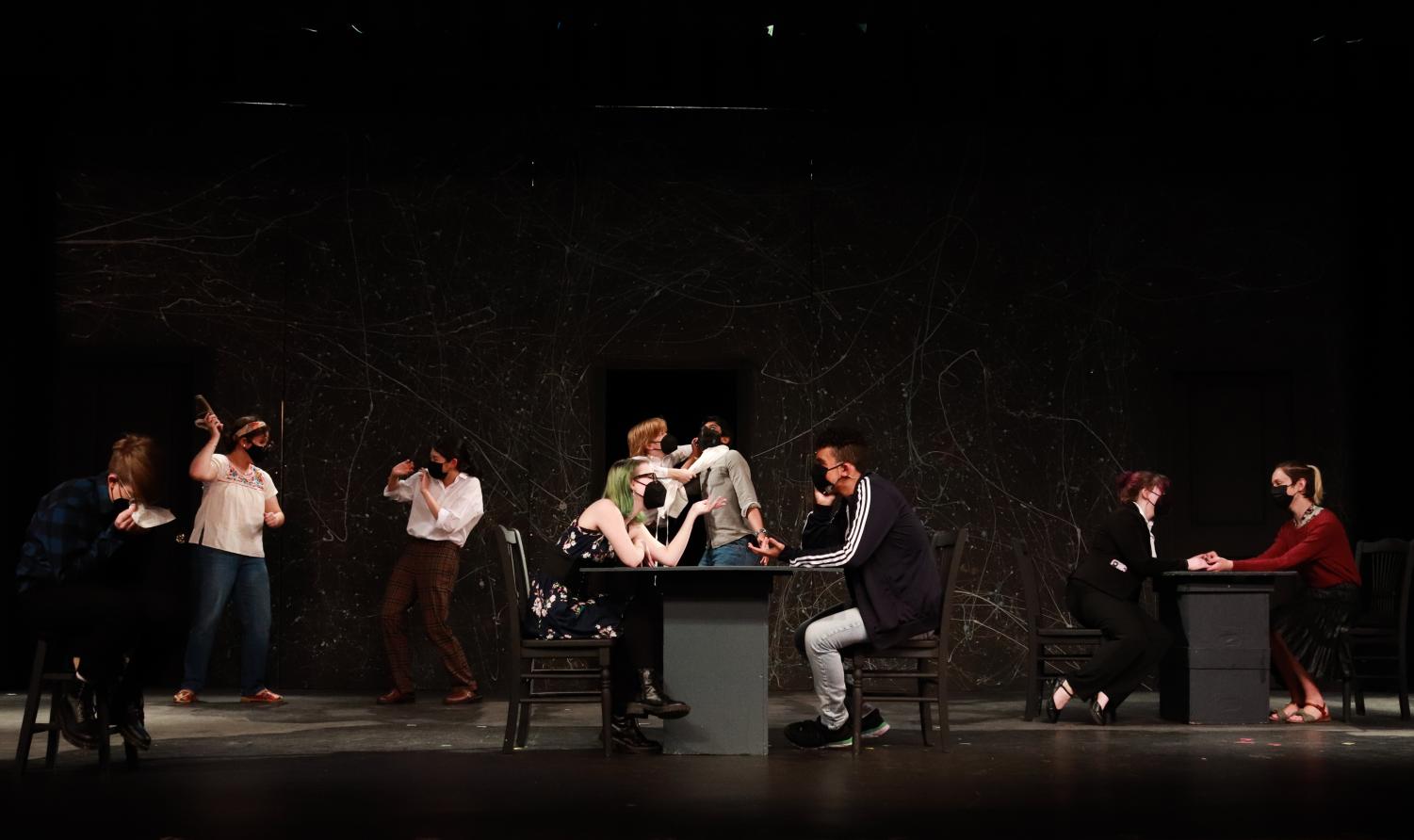 "We put in a lot of work, especially over break," Smith said. "So to see it not be able to have a live performance, even after the fall play had one, was disappointing."
Despite this, Smith said they were content with having a final product despite it not being in person. They said they were still able to perform the play on stage to create the recorded video. 
"'One Acts' are a lot of fun to make and to perform," Smith said. "Ms. Lloyd did what she could and we managed to get it online. It's good to have a final product even after the final product isn't a live performance."
Given that the play was written to be performed to a live audience on a stage, a few alterations were made to the script, junior, actress and filmer Coline Gingembre said. Three different cameras were used and the lighting had to be adjusted to prevent overexposure, Gingembre said. 
"You won't have the same result when you have an audience," Gingembre said. "For example, one of the shows originally had a narrator and when filming it, having a narrator is kind of weird. It could turn into a movie."
Though they had to make a few adjustments, Gingembre said she was happy the actors had something to hold onto.  
"One Acts are a really nice way to connect with people from our community," Gingembre said. "It's a great experience and it's always a good memory for everyone who participated in it."